[singlepic id=499 w=500 h=333 float=none]
Well, at least that's what a lot of people think. During exhibitions I often get the comment "Oh you must use Photoshop", with the suggestion this is some new form of digital tomfoolery….trickery….cheating. This new way of working with images is deceitful and wrong; or at least that what these groups of people are suggesting.
It's true the images are manipulated. The average person can't press the shutter button on their automatic cameras and come back with the same images I produce, but isn't that part of what makes it art? Throughout the history of photography the average amateur photographer could not replicate the images of the professional photographic artist. This trickery or, more appropriately called image manipulation, has occurred since the medium of photography was invented. Is it wrong, or is it part of what makes photography an art?
The Pictorialist's, like Edward Steichen and his multiple printing platinum print with applied color shown below, were masters of manipulation using many techniques to alter their images – both in camera and during processing. While there have been many exhibitions of pictorialism few have focused on the manipulation side of it. That is why I'm excited to see the Metropolitan Museum of Art has an exhibition on manipulated photography titled Faking It: Manipulated Photography Before Photoshop. I wish I'd be able to attend the exhibition and see it in person, however just reading through the online exhibition has been interesting.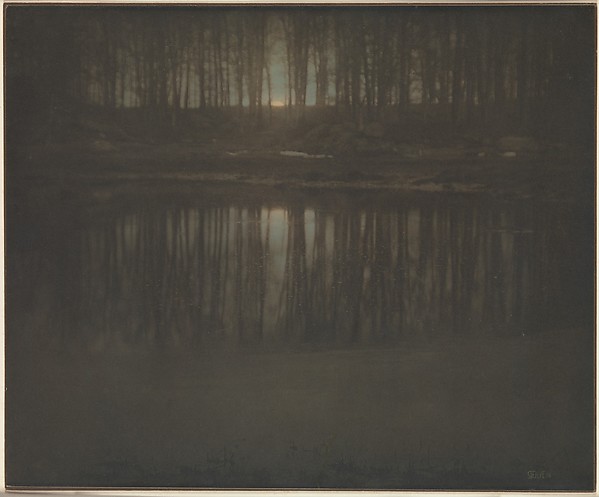 To say the manipulated photograph (whether done before or after Photoshop) is fake or somehow less valuable, is akin to saying an original painting is less valuable than the paint by number that anyone could produce.
On a related note: Wired.com has an exhibition of Early 1900's tall-tale postcards: Early 1900s Postcards Show Off Primitive 'Photoshopping' Skills